Q uick.
S mart.
S imple.
Outsourcing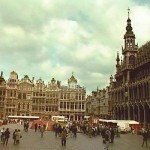 Outsourcing IT services
årenborg consulting is working since 1999 on software development projects. We were soon to realize that not only prices are better in India, but also that they are mastering the best technologies.
We are working in close partnerships with the best of bride of software solution providers for software development & outsourcing, electronic R&D, consumer electronics, embedded, imaging, industrial automation, avionics, healthcare, etc.
We are capable of offering :
Hardware Infrastructure: workstations for software development, testing and support facilities.
Internal Training Facilities: In-house staff training facility to train a large number of people at a time with LCD Projector (beamer), and other interactive tools.
Internet Connectivity: dedicated leased line for all development facility supported by a backup broadband cable link incase the leased line fails, facilities with dedicated dialup terminals in the offices in case of extreme contingency
Dedicated Servers for application Hosting, Testing Client Presentation:
co-location servers with one of the best data center in USA having multiple OC3 connectivity and all the latest Firewall installed. Internal hosting server on Real IP for clients to view the status of their development work on production servers at any phase of their development cycle thereby providing complete transparency in facility. On top of this there is a rack of servers at our partner's development setup in India with 16 independent IP with Linux, NT, .Net, Java, ASP, MySQL, MSSQL and Oracle Support.
To make a long story short, we are capable of offering the best of bride of services with dedicated partners.
Access to technology competencies:
.Net expertise
C, C++, VC++, EVC
J2EE
PHP
Wireless & Mobile applications
CadCam (autocad/Catia/UG etc.)
So … Business solutions range from :
Microsoft Business Solutions
NET, COM+, ASP, MTS, Site Server, SQL Server
Java, J2EE Solutions
Java, JSP, Java Beans,EJB
J2EE Enterprise Solutions
Websphere & WebLogic
Oracle Enterprise Solutions
Oracle Database, DBA
Oracle application server
Mainframe
OS390, DB2, CICS
Enterprise Cobol